Buy or Trade with us!
How it works:
On days we are in the shop, and open bring us your very best pieces (up to what will fit into a garbage bag/box of similar size or 2 paper grocery bags), write your first and last name, with phone number on the bag(s). If you would like to bring us more items at one time, or bigger items like equipment, please just send us a message on instagram or send us a text, so we can make sure we have the space.
Turn around is 24-48 hours (most buys/trades can happen immediately if time allows), at which time we will text you with an offer for you.
Please make sure all items are stain free, clean and on trend. Please no store brands from big box stores except Target (psst.. we love many vintage items that are now making a come back!)
As a default, we offer trade credit, unless we discuss otherwise for cash beforehand. We only offer cash for higher end, boutique brands or in dmeand items that are more difficult to source.
For more information, please refer to the Moon Child PNW LLC trade contract in the store- or send us a message!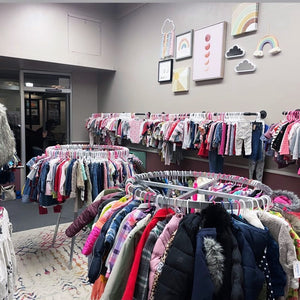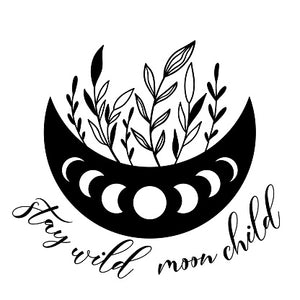 Some of our favorite brands:
Little Bipsy, Ouef, Magnetic Me, Pact, Bobo Choses, Pact, Pepper Kids, Ugg, Mini Rodini, Hugo Loves Tiki, Piper Finn, Little Love Bug, Rock Your Kid, North Face, Columbia, Patagonia, Mini Boden, Jamie Kay, Spearmint Baby, Lovevery, Ten Little Shoes, Kyte, Goumi, Posh Peanut, Kate Quinn, Tucker + Tate, Hanna Andersson, Gap, Old Navy, Cat + Jack, Tea, Rags, Primary, Janie + Jack, Vineyard Vines, Gymboree, Rumi + Ryder. Rockets of Awesome, Zelle, Remi Girl, Zara, Jessica Simpson, Burt's Bees, H+M, Mini Melissa, Hunter, Nike, Adidas, Livie + Luca, Minnetonka, Birkenstock, See Kai Run, Keen, Teva, Under Armor... and always boutique brands, small shop brands, quality athletic brands and Nordstrom's exclusive brands.
We also LOVE getting in books, toys (wooden toys, boutique toys, waldorf & montessori), and any fun little accessories for babies and kids!
Visit Us
507 Washington St SE
Olympia, Washington
(Next to Captain Little, across from Washington Center for the Performing Arts.)
Closed Mondays & Wednesdays
Tuesday 10am - 2pm
Thursday 10am - 2pm
Friday 10am - 2pm
Saturday, 10am - 5pm
Sunday, 11am - 3pm